Taking inspiration from the energetic announcer Tim Kitzrow in the 
NBA JAM
 video game, 
Michelob ULTRA
 set up a retro arcade bar called "Boom Shaka Laka's" for 
All-Star Weekend
. The neon-lit space provided basketball fans with an immersive setting for playing the iconic game, meeting legendary NBA JAM players and discovering a merch collection inspired by the iconic game.
Partnering with NBA JAM, the "Boom Shaka Laka's" event featured limited-edition beer cans with the catch phrases and pixelated characters from the game. As visitors enjoyed cans of Michelob ULTRA, they could challenge their friends to 2-on-2 gameplay and "Enjoy It Like It's 1993" through panel discussions, performances and DJ sets from personalities of that era. To kick off the All-Star Weekend celebrations, DJ Jazzy Jeff and Fat Joe were invited to play a selection of throwback tunes for an intimate '90s-inspired experience.
The next day of "Boom Shaka Laka's" welcomed fans to watch the games while listening to music from Brittany Sky, who represents how younger generations can tap into the NBA JAM legacy. Visitors also witnessed a special appearance by Tim Kitzrow, the voice of NBA JAM, and a dynamic conversation between James Worthy and Clyde Drexler. Hearing Tim's voice evokes a strong sense of nostalgia for those who played NBA JAM while growing up and he shares that, "I go to game conventions and the first thing people say is, 'You were the voice of my childhood. NBA JAM made me so happy.'"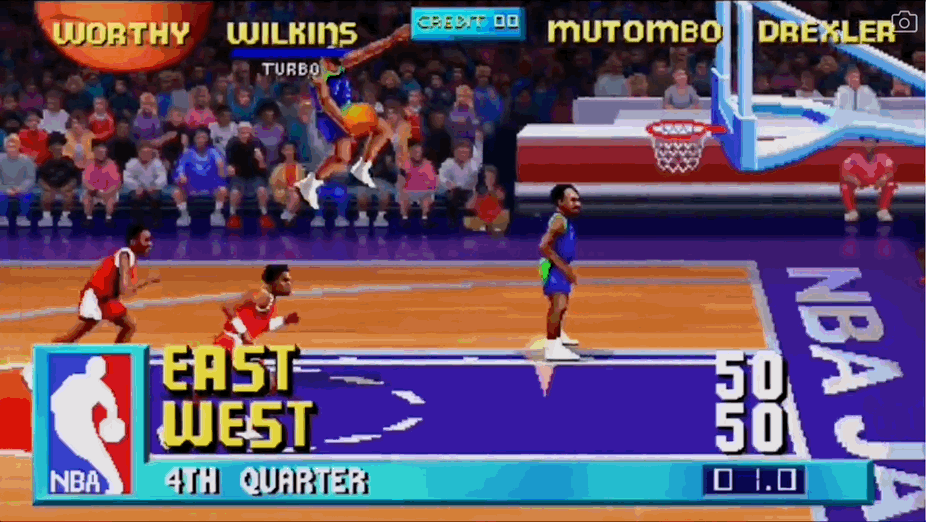 Agency: Wieden + Kennedy NYC

Creatives: Jacobi Megringer, Tommy Woods
Producer: Rodrigo Nino

GW Team:

ECD: Ingi Erlingsson
EP: Dotti Sinnott
CD: Ewen Stenhouse, Sammy Moore
AD: Cesar St. Marin
Producer: Rebekah Hamilton
Production Manager: Lucy Caetano
PA: Danielle Bordelon, Alex Young
Storyboard: Nico Polverelli
Design: Johnny Cardoso, Cristian Aranda (abueloretrowave), Valeriya Sanchilo (waneella), Mikhail Kalinin
Animation: Stephanie Mercier, Alberto Sanchez, Eliot (Pencil Bandit), Rory Byrne
Animation Assistant: Clémentine Gautier, Jennifer Belobi, Mila Obelleiro
Compositing: John Wilkinson

Audio: PHONAT